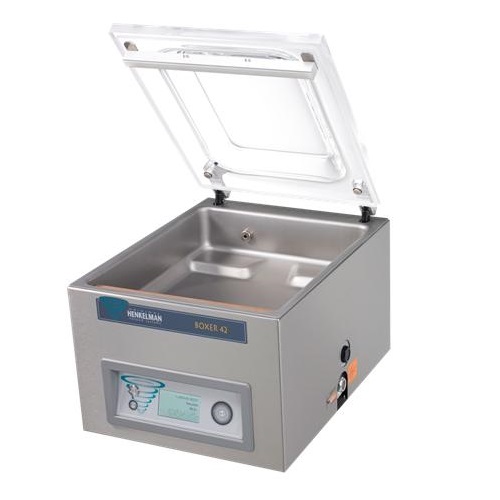 Henkelman Boxer 42
The Henkelman Boxer 42 with ACS controller as standard is a modern tabletop model with a full range of vacuum, HCCAP and MAP packaging options. It has user-friendly digital program and maintenance functions, allowing easy use of the full product. Items sealed in a vacuum bag will have a longer shelf life, optimal hygiene and no contamination of the product. The sealer hermetically seals the bags, preventing any bacteria entering, the loss of moisture and mold growth. The value of the product is sure to be prolonged when vacuum-sealed with the Henkelman Boxer 42.
Professional vacuum packaging for a very attractive price.
The Boxer 42 is the perfect machine for efficient cooking concepts like Sous-Vide and Cook & Chill.
Professional product presentation and improved product quality (product maturing in packaging, no loss of aroma) combined with increased turnover due to longer shelf life (more variation and spread in product range) make the Boxer 42 ideal for retail trade – restaurants – catering – supermarkets (meat, poultry, fish, cheese, vegetables etc.)
Optimal packaging contributes to food safety and HACCP standards.
Features:
Table model
Stainless steel housing
Stainless steel deep-drawn vacuum chamber for optimal hygiene
Transparent lid
Easily removable wireless sealing bars in vacuum chamber
Trennseal – 1 x 3.5 mm convex sealing wire + 1 x 1.1 mm round cutting wire / One time setting (cut off remaining flap)
Insert plates for adjusting vacuum chamber height Packaging
Insertable plate for packaging liquid products
STOP button for partial/full cycle interruption
Digital maintenance program for pump
Advanced Control System
Full colour screen with user-friendly interface
This control comes with;
Intuitive interface which is easy to program and understandable thanks to its fully animated functions.

6 languages operational mode

20 programs adjustable in % and mbar/ hPa

USB port for data transfer

Full color 4,7 inch LCD screen. Standard in 5 languages. Real time/date displayed. Oil cleaning program. Service data storage. Liquid Control and M.A.P. available

Standard sensor control. Special integrated functions such as sequential vacuum, red meat and external vacuum are easily activated.

Easy and fast programming on a computer (up to 100 labels and 20 programs), which can easily be transferred on the machine via USB.

Program access security: Three access levels with different user rights. Dealer- owner- and operator. Settings can be saved and protected ensuring consistent and reliable results every cycle

Guaranteed traceability and controllability with 5 operator access codes. (Automatic storage of: active operator, packed product, amount of cycles, settings, time and date).Henkelman has developed a special software to easily program this display. You can ask your local distributor for this program.
Sealing system Options
Double Seal – 2 x 3.5 mm convex sealing wire for optimal moisture elimination (double protection)(optional)
1-2 Trennseal – 1 x 3.5 mm convex sealing wire + 1 x 1.1 mm round cutting wire / Independent time setting (shrink bags) (optional)
Wide Seal – 1 x 8.0 mm flat sealing wire (optional)
Optional Extras
Connection for external vacuuming food containers
Service kit for standard maintenance
Special machine adaptations for specific products and/or production environments
PERFORMANCE
Pump Capacity: 021 m3/h
Optimal final vacuum 99.80% (2 Mbar)
Machine Cycle: 15-35 sec.
Voltage: 230V-1-50Hz
Power: 0.75 – 1.0 KW
WEIGHTS & DIMENSIONS
Dimensions – Internal chamber (HxWxD): 180 x 420 x 370 mm
Dimensions – External unit (HxWxD): 450 x 480 x 520 mm
Dimensions – Packaged unit (HxWxD): 500 x 580 x 620 mm
Seal Bar Length: 420mm
Unit weight: 62 kg
Packed weight: 70 kg
Product code – FT2002
Stockists
Industry Kitchens
Vacpac Engineering
Sous Vide Australia Consulting
Enquire Now
Please complete this form and one of our friendly team will contact you.