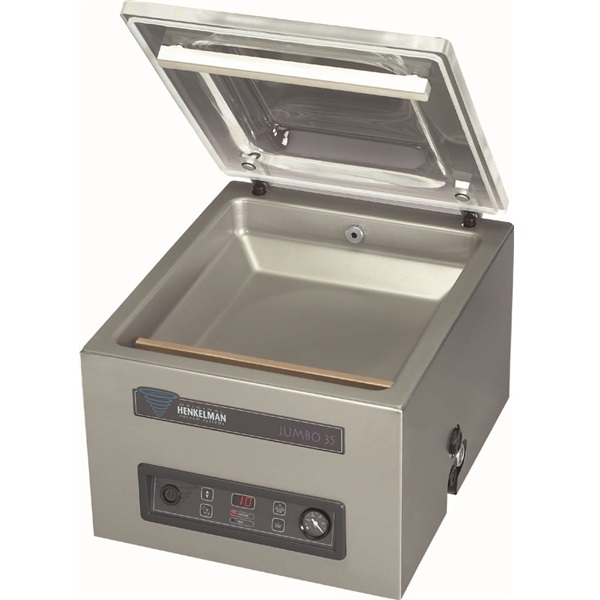 Henkelman Jumbo 35
The Henkelman Jumbo 35 is a modern tabletop model with proven packaging achievements.  It has user-friendly digital program and maintenance functions, allowing easy use of the full product. Items sealed in a vacuum bag will have a longer shelf life, optimal hygiene and no contamination of the product. The sealer hermetically seals the bags, preventing any bacteria entering, the loss of moisture and mold growth. The value of the product is sure to be prolonged when vacuum-sealed with the Henkelman Jumbo 35.
Professional vacuum packaging for a very attractive price.
The Henkelman Jumbo series are ideal for vacuum-sealing food for use in sous vide cooking on a large scale, such as in hotels, restaurants and catering businesses. The sealer will cleanly and efficiently evacuate air and seal the vacuum bag, which will allow the food items to have a longer life on the shelf. The Jumbo series is also ideal for packaging non-food items, such as electrical components, medical and chemical products, and other consumer goods.
Features:
Table model
Stainless steel housing
Stainless steel deep-drawn vacuum chamber for optimal hygiene
Transparent lid
Easily removable wireless sealing bars in vacuum chamber
Insert plates for adjusting vacuum chamber height Packaging
Optimal final vacuum 99.80% (2 Mbar)
Double Seal – 2 x 3.5 mm convex sealing wire for optimal moisture elimination (double protection)
Insertable plate for packaging liquid products
Digital Control – Time control for vacuum and seal Support Control Functions
STOP button for partial/full cycle interruption
Digital maintenance program for pump
Optional EXTRAS:
Hose connection for external vacuuming food containers
Service kit for standard maintenance
PERFORMANCE
Machine cycle: 15-30 sec.
Voltage: 230V, 1-50Hz
Power: 0.55 kW
Pump Capacity: 16 m3/h
WEIGHTS & DIMENSIONS
Dimensions – Internal chamber (HxWxD): 150 x 350 x 370 mm
Dimensions – External unit (HxWxD): 385 x 450 x 525 mm
Dimensions – Packaged unit (HxWxD): 450 x 540 x 650 mm
Seal Bar Length: 350 mm
Unit weight: 48 kg
Packing weight: 56 kg
Product code – FT2001
Warranty & Service
Coming Soon
Stockists
Industry Kitchens
Vacpac Engineering
Sous Vide Australia Consulting