Butter poached lobster, so devine!
May 19, 2010
SOUTHERN ROCKLOBSTER, BRUSSELS SPROUTS, PARMESAN CREAM, OLIVE OIL, LEMON AND ROSEMARY
Recipe Courtesy of Luke Stepsys and southern rock lobster
Serves 4
Parmesan cream ingredients
50ml EV olive oil
100g leek, white part only, finely chopped
100g celery, chopped, finely chopped
100g shallots, peeled weight, finely chopped
30g garlic, peeled weighed, finely chopped
2 bay leaves
3 thyme sprigs
5g whole white peppercorns
100g white wine
500g fish stock
225g cream
100g Parmigiano Reggiano rind
300g Parmigiano Reggiano, finely grated
8g sea salt, this may vary according to the type of sea salt you use
Method
Heat oil in a heavy based saucepan and sauté leek, celery, shallots and garlic without colouring for 5 minutes. Add the bay leaves, thyme sprigs, peppercorns and parmesan rind then deglaze with the white wine. Reduce until almost dry, then add the fish stock and simmer for 15 minutes.
Remove from the heat and strain through a fine sieve into a clean pot and bring back to the boil. Add the cream and simmer for 5 minutes then stir in the finely grated parmesan. Adjust seasoning to taste and strain hot mixture into a cream siphon and charge with 2 gas bulbs. Refrigerate for several hours until the canister is cold and smooth, stable foam is formed.
Parmesan Crisps ingredients
125g Parmigiano Reggiano, finely grated
70g egg white at room temperature or warmed over hot water
Method
Place parmesan and egg white in a large bowl and combine. Cover and refrigerate overnight.
Place the mixture between two greased Silpat mats and roll out until thin, then gently peel away the top mat. Place onto a tray and cook in a 150°C oven until evenly browned and crisp. Remove from the oven and allow to cool before breaking into small pieces.
Brussels Sprout Puree ingredients
50g butter
25g shallot, peeled weight, finely chopped
20g garlic, peeled weight, finely chopped
400g small young Brussels sprouts, finely chopped
1 bay leaf
1 thyme sprig
300g chicken stock
sea salt
freshly ground white pepper
10g watercress puree to add colour
Method
In a heavy based pan gently melt the butter and sauté the shallot and garlic without colour for 5 minutes. Add the Brussels sprouts and sauté for another 5 minutes then add the thyme, bay leaf and chicken stock and bring to the simmer. Cook for 20 minutes then remove from the heat and strain, separating the Brussels sprouts from the liquid, but reserving both. Place the Brussels sprouts into a blender and add enough of the poaching liquid to blend and form a smooth puree. Add the watercress puree and adjust the seasoning to taste before passing through a fine sieve. If you are using a Thermomix it may not be necessary to pass it through a fine sieve.
Butter poached Southern Rocklobster ingredients
300g cold unsalted butter, cubed
60g water
green rocklobster tail from 1 x 2kg plus Southern Rocklobster
2g Sea salt, or to taste
Method
In a small saucepan bring the water to the boil then immediately add the cubes of butter, one at a time and whisk over a low flame until all of the butter has emulsified.
De–vein the tail and divide the green meat into 150g main course portions and put into individual bags with some of the butter emulsion and a pinch of salt, cryovac on high and immediately refrigerate. The Southern Rocklobster is cooked to order.
Brussels Sprouts ingredients
12 small Brussels sprouts
300g Southern Rocklobster tail meat, chilled
140ml cream, chilled
1 lemon rind, finely grated
salt and white pepper
Method
Peel away outer layers of Brussels sprouts and use to form the outer casing to hold the Southern Rocklobster mousse. Chill the bowl of a blender and add the Southern Rocklobster and blend quickly until a smooth puree has formed, then add the cream and grated lemon rind and place into a piping bag fitted with a round nozzle.
Meanwhile pair up Brussels sprout leaves in 3's and begin to form, leaving a small gap to pipe in the Southern Rocklobster mousse. When they are full, wrap each one in a small roll of plastic wrap and twist tight on each end. Steam for 5 minutes then unwrap and toss in lemon juice and olive oil, seasoning well.
Lemon jelly ingredients
100g strained lemon juice
300g clarified fish stock
4g agar agar
Method
Combine lemon juice with fish stock and agar agar and bring to the boil. Strain and pour into a shallow tray and refrigerate until set. Remove and cut into 4mm squares.
Brussels sprout and parmesan salad ingredients
100g Parmigiano Reggiano, finely grated
100g tiny Brussels sprouts, outer leaves removed and finely sliced
strained lemon juice, to taste
EV olive oil
sea salt
Method
Combine the Reggiano and Brussels sprouts and make a simple vinaigrette to taste with the lemon juice, olive oil and salt.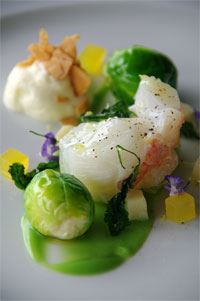 To assemble dish other ingredients per serve
 rosemary flowers
1 de–stemmed Cavalo nero leaf, softened in EVOO
Heat a water bath to 59.5°C and poach a lobster portion for 15 minutes, and rest in a warm place.
Heat up a portion of Brussels sprout puree and spread onto a warm plate. Make a small pile of salad on the puree and place a portion of Rocklobster on top. On each side of the Southern Rocklobster, place a poached Brussels sprout.
Discharge the parmesan foam in two piles and top with crumbled parmesan wafers. Garnish the dish with some cubes of lemon jelly, rosemary flowers, fried Cavalo Nero leaves and give it all a good dash of extra virgin olive oil and some freshly ground black pepper.