Henkelman Vacuum machines
June 23, 2018
If you are going to cook sous vide in any kind of serious way, whether for home, a restaurant, hotel or value adding in a butcher shop, a good vacuum packaging machine is you most crucial investment. It is essential that your vacuum machine be built around a quality vacuum pump of a size that suits the chamber of the machine. Busch manufacture some of the most solid vacuum pumps in the world and have many years of proven reliability. You will find a Busch vacuum pump of generous size at the heart of every model in the Henkelman range. We start with the Jumbo range in both a 35 cm and 42 cm seal bar size. A simple, hard working machine, the Jumbo range use a touch pad interface with straight forward timer switching to control the length of the vacuum cycle and sealing. The 16 m3h vacuum pump is powerful enough to reduce your vacuum cycles to 15-25 seconds, allowing high volume consistent use in busy restaurant environments.
If you package for presentation like cheeses or sliced meat, or if you are chasing a little more control over the whole process the Boxer range with either 'digital programable sensor control' or the even more 'Advanced Control System'(ACS) matched with a powerful 21m3h is for you. The 42cm seal bar option comes standard with ACS control giving you 20 programmable options, to control vacuum settings, seal time and soft air release. The ACS controller also has USB interface for both programming, software updates and printer control. The Boxer 52 is our biggest bench top vacuum machine with twin 40cm seal bars, one on the left and one on the right. If volume is your key to success the Digital control Boxer 52 is for you, able to vacuum and seal multiple bags each time.
For Hotels, large butchers and meat works our Marlin and Polar range come in a large range of configuration to suit your specific needs. The largest machine in our range boasts 6 meters of sealing bar with a 300 m3h pump in a swing over design.
We offer a full range of factory options including custom seal bar placement, H2O sensors and gas flushing on Boxer, Marlin and Polar ranges.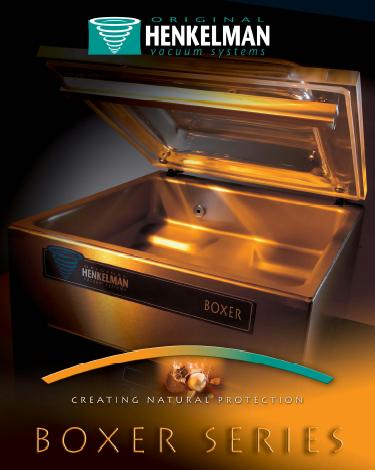 There are a lot of vacuum packaging sealer on the market, but like your car, a machine that works that hard needs quarterly service and support. Buy quality from a dealer that can support your investment. Be very careful on pump size, if it is under 12 m3h it is not suitable even for the smallest restaurant. Cleanliness and hygiene are the next most important features, make sure your seal bars are wireless and that the chamber is easily cleaned, spacing boards should not have screwed on feet and avoid air bag raised seal bars as they are impossible to keep clean.
Made in the Netherlands, built to last and to be used, Henkelman vacuum machines are the best around when it comes to reliability and quality for price.